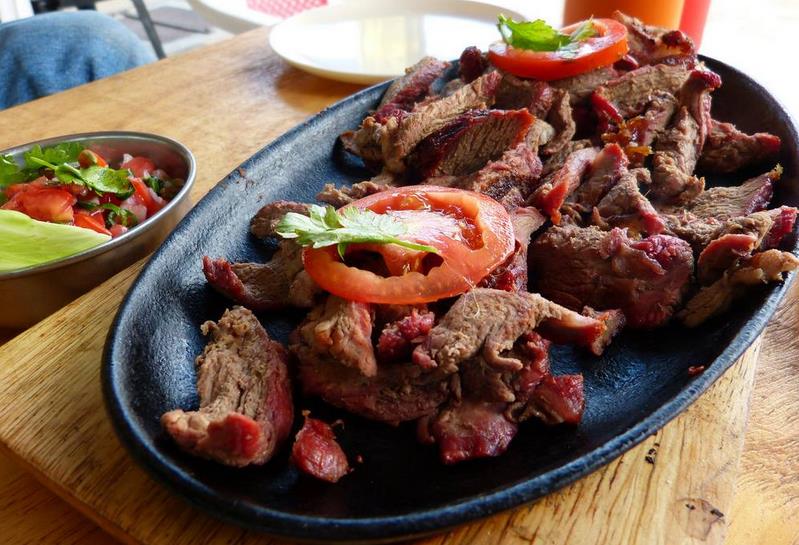 From luxurious 5-star hotels to roadside vibandas, ask for Nyama Choma and you are sure to get it in Kenya's capital city Nairobi.
Nyama Choma which basically refers to barbecued meat, is a signature delicacy among Kenyans and is mostly consumed over the weekends as revelers meet to unwind in different joints after a tempestuous week.
Goat meat is the most preferred red meat Nyama Choma owing to its tenderness and unique flavor.
There is also beef, and for white meat enthusiasts, you can have chicken (kuku choma) and pork choma which is fast endearing itself among nyama choma lovers in the city under the sun.
While some enjoy it just fine with no accompaniments, most nyama choma lovers swear by ugali and some kachumbari – comprising of tomatoes, onions and pepper- as accompaniments.
One can also opt for chips, mashed potatoes among others based on their preference.
If you are a sucker for nyama choma, here is the list of 20 top nyama choma joints that should leave you spoilt for choice this year.
20. GMC Fun Place
Apart from serving tantalizing nyama choma delicacy sourced from the surrounding Maa community, it is the go to place for a family day out.
Located in Kitengela town, alongside Namanga road, a 2-hour drive from the city, GMC Fun Place can be likened to Kenya's Disneyland thanks to its kid friendly features.
Its heated pool accompanied with an array of children activities, provides a rare whole package where one can enjoy their favorite nyama choma as the kids relish the best time of their lives.
With less than Sh1,000 you can savor 1kg of their finger licking nyama choma be it the normal grilled or marinated one.
19. Jiweke Tavern
The restaurant located alongside Ngong Road is a household name in the region.
Their captivating ambience and delicious nyama choma makes it a perfect joint for a family outing during the day.
That said, it would not be advisable to bring children at night as the place is usually crammed up with merry makers.
18. Club 034
This plane-turned restaurant is undoubtedly the most archetypal places in Kitengela, Kajiado County.
The one-of-a-kind lounge which always leave its patrons awestruck, comprises of a fully, equipped field with a restaurant, bar, and sitting areas for revelers who grace it.
17. Nerkwo
If you love goat meat, be it grilled, roasted, wet fry, boiled famously known as tumbukiza, then this is the place to be.
It is arguably the most popular joint for nyama choma in South B thanks to its frequent offers on meat to its customers.
The fact that the place is usually packed as early as 2pm with the parking slots fully occupied is a true testament of its allure.
16. Coco Jambo
Whether you want to order online from the comfort of your home through Uber eats or you want to go out, you can never go wrong with this joint located in Kilimani.
The place is also perfect for family outings and catching up with friends as you relish their mouthwatering nyama choma.
15. The Office
For extreme sport lovers who frequent Ngong Hills for hiking and zip lining, as well as Ngong residents this place is a gem.
It has several meat vendors specializing in all kinds of nyama choma cuisine be it beef, goat, chicken or pork.
Their famous avocado kachumbari is a must try.
14. Pit Stop
For excellent nyama choma and soup, this joint, located next to Carnival Restaurant, can never disappoint.
It is usually packed to the brim especially on Sundays with revelers nursing hangovers from partying hard from Friday to Saturday.
13. Roadhouse Grill
Surrounded by offices alongside Dennis Pritt Road, Kilimani, this joint is a darling among office workers.
It has three branches in Upper Hill, Hurlingham, and Karen.
Its sumptuous nyama choma coupled with soothing Rhumba music makes it an ideal joint for people to stop by for lunch or even a quick drink as they catch up after an exhausting day at work.
To secure a better parking slot, you better plan to be there early as the place usually fills up by 5:30.
They also provide Uber Eats if one prefers to order from inside.
12. Spinners and Kitindo
Located in Embakasi, it is undoubtedly one of the oldest nyama choma spots which have stood the test of time in Nairobi.
It is a walking distance from Taj mall.
It has an array of meat vendors who are always eager to have you savor their different meat cuisines.
11. Ole Polos Country Club
It is one of the most renown nyama choma joints in Nairobi ranging from goat, beef, lamb, and chicken.
The restaurant provides spectacular views of Ngong Hills and Maasai plains from afar.
It is also equipped with a clean swimming pool which provides refreshment within the extremely high temperatures.
Its serene ambience provides perfect escape to people who want a break from the city's hustles and bustles.
10. Kamakis
If you reside in Nairobi and its environs, then you definitely know about this joint.
Named after the founder, Mugui wa Kamaki, the place houses different vendors who sell a wide variety of meat.
Their delicious nyama choma with ugali and kachumbari accompaniments will keep you going back there.
9. Kifaru Place
The first thing that strikes you when you visit this place is its inviting lights, magnificent artworks and spectacular aura.
Its finger licking yet pocket friendly nyama choma makes it the ideal spot for family and friends.
It has ample and secure parking space and is also spacious if you like your privacy.
8. Harry's Tavern
If you reside in Umoja, Kayole, Komarockor Donholm and its environs, you should definitely visit this spot.
Located at the Junction between Mayanja Road, Bee Center and Spine Road Kayole, the place which boasts of a lively sports bar, is popular among people who like to party.
It offers tantalizing, affordable nyama choma and is suitable for hanging out with friends.
7. Greenspot
It is situated at Ruiru on the Eastern Bypass – Ruiru.
It is one of Kamakis joints and it is famed for its nyama choma and pork choma.
The spot is perfect for hanging out with family and friends.
6. Nyumbani Restaurant
If you are a sucker for serenity and blissful environment, then this is your go-to-place.
The residential home turned lounge offres incredibly, delicious nyama choma accompanied with ugali, traditional vegetables and kachumbari.
5. StedMak Hotel and Gardens
It is located in the lush, high end Karen Suburbs.
Its delectable nyama choma and heated pool makes it a perfect spot for the affluent who reside in the region.
4. Homeland
Its delicious, pocket friendly nyama choma has endeared itself to people.
No reservations needed in advance and one can just saunter in and savor their array of fresh, mouth-watering nyama choma.
You can never have enough of their mbuzi choma.
3. Club Teras
Located along Mirema Road, off Kamiti Road, Club Teras is known for its delicious nyama choma.
It has garnered popularity with locals and also patrons from far and wide who frequent it mostly on weekends.
2. Ridgeview Leisure Garden
If you are searching for a memorable dining experience, then this is the spot to visit.
Its luscious nyama choma especially mbuzi choma, coupled with a fascinating aura has endeared it to biking and hiking sports lovers who frequent Karura Forest.
Njuguna's
It is arguably the most renown nyama choma base in Kenya.
Situated along Waiyaki Way, just a short drive from the CBD, the joint is a darling to many, from politicians to elites, who flock there to savor their delectable nyama choma.
It is the perfect place for first time visitors in Kenya who would like a one-of-a-kine nyama choma experience.