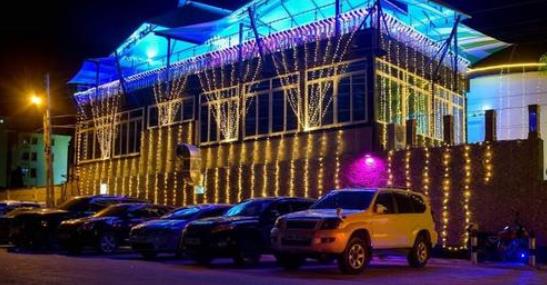 KENYA'S capital city, Nairobi, is famed for its boisterous, electrifying night life.
From luxurious, aristocratic bars characterized by sensational, rhythmical tunes to vibrant night clubs with skilled DJs who entrance their audience with magical spinning skills, Nairobi night life leaves revelers spoilt for choice.
Weekend is the best time to experience the resplendency of the capital city at night and you can choose between Friday and Saturday, to let loose your hair and gyrate all night long as you imbibe your favorite drink.
Sunday is usually downtime as people nurse hangovers, kutoa lock, and recover from their weekend escapades, as they recharge for the week ahead.
In this article, we shall identify the top best bars and clubs that will definitely give you an experience of a lifetime regarding Nairobi's ebullient nightlife.
Aqua Blu Club and Lounge Bar
It is a magnificent, luxurious club located in Woodvale Grove, Westlands.
Its electrifying ambience coupled with captivating vibes and latest music, always leaves a lasting impression making revelers to want to come back for more enthralling experience.
Skylux Lounge
It is a classy, exotic bar located on Muthithi, Road, Westlands in Soin Arcade, Second Floor.
One must be 21 years and above to be allowed in.
It is famed for excellent latest music, signature cocktails and offers a sophisticated ambience.
The Alchemist
Although it has been in existence for only a short time, this club, situated in Westlands has been growing in leaps and bounds establishing itself as choice entertainment joint.
Its magnificent ambience gives it an edge drawing countless merry makers every weekend.
Brew Bistro
This club offers a deluxe night life experience and is renowned for its premium and master brews.
Its one-of-a-kind outdoor terrace and lounge with captivating interior décor comprising of lavender and coral leaves indelible memories.
Located along Ngong Road, on Piedmont Plaza near Junction Mall and Impala Club, the entertainment joint is owned by the Big Five Breweries.
SpaceLounge Bar and Grill
It is a popular nightclub located at Ngong Road in Nairobi.
It prides itself in a wide range of alcoholic and non-alcoholic drinks and is renowned as Nairobi's 'hottest club.'
Lord Delamere Terrace
It is named after the third Baron Delamere, one Hugh Chomondeley, who was among the first British settlers to land in Kenya.
This historic joint which was established in 1904 is still a stark reminder of the colonial era.
Apart from an array of topnotch liquor served in a captivating atmosphere, this luxurious spot in Nairobi offers a wide range of Asian and American delicacies ranging from ostrich fillets to regular steaks.
It is the go-to place if you are a sucker for sundowners while relishing the breathtaking sceneries of dawn.
Sarabi Rooftop Sankara
If you are searching for a fun-filled night experience, then you must visit this entertainment joint, o Woodvale Grove
The live bands on Fridays and Saturdays and its serene ambience makes it an ideal spot for a chilled night out.
Sky Lounge
From nostalgic sundowners to romantic night outs, this rooftop bar is the perfect go-to place.
Its elevated height offers breathtaking views of the National Park and the city leaving indelible memories on the revelers as they relish their favorite cocktails.
It is located on Kaunda Street and Mama Ngina Street.
Galileo Lounge
It is located along Waiyaki Way towards Westlands.
Its captivating music and drinks have made it very popular among revelers who stream in during weekends and other special events.
40Fourty Lounge
It is among the best entertainment joints to experience nightlife situated in Westlands,
NaiLounge
For those who love ancient, well matured classic drinks, such as wine, brandies and whiskies, it is the ideal spot.
It also offers a glass enclosed VIP lounge for those who do not mind dishing out extra cash for a unique, preferential experience.
K1 Klub House
For reggae dancehall and roots music enthusiasts, this is the perfect joint for you.
Its strategic location in the serene suburbs of Parklands along Ojijo Road, makes an ideal joint for unwinding during the weekend.
Mercury Lounge
This is a high end popular club located at ABC Place, in Westlands.
It is not unusual to spot expatriates alongside local clubbers having a time of their lives while sipping a variety of exotic brands.
Choices Bar and Restaurant
If you are searching for a classy sports bar where you can watch your favorite game while savoring your favorite drink, then this is the perfect joint for you.
Located along Baricho Road, the entertainment joint provides a favorable ambience for weekend night outs.
It offers an array of drinks snacks at reasonable prices with themed nights on weekdays which makes it a favorite among many.
1824 The Whiskey Bar
It is one of the most popular joints in Langata.
It is famed for its unique meat cuisines and its signature, topnotch whiskey varieties.
Havana Bar and Restaurant
It is renowned for its topnotch culinary expertise and premium, fermented brews.
Situated adjacent to Sarit Center on Woodvale Grove, Westlands, the club is among the best high-end entertainment joints in Kenya's capital city.
Black Diamond
This is a vibrant night club located on Mpaka Road, Westland.
It has a spectacular aura and it is renowned for its wide range of cocktails which are popular among most clubbers in the capital city.
Milan
It is a fantastic clubbing joint situated on The Mirage Tower 3, Second Floor, along Chiromo Road.
Milan (2nd floor, The Mirage Tower 3, Chiromo Road next to the Kempinski Hotel.
Havana
It is a classic bar located in Weslands which prides itself in its Cuban ambience with a dash of African allure.
From Cuban cigars, tantalizing variety of American cuisine to wide range of impoted top-shelf liquor, this night club is the perfect place to be on an adventurous weekend night out.
They provide tacos and carnitas not forgetting the erotic Latin extravaganza which keeps clubbers on their feet till late into the night.
Simba Saloon
It adjoins Carnivore Restaurant in Nairobi. It offers an ideal atmosphere for family with complete playground for children during the day on weekends.
However, from midweek into the weekend at night, it unleashes its magic with themed nights covering all genres from old school, rock and African beats.
It prides itself in hosting internationally music superstars and DJs as well as an outdoor concert spot with a capacity of over 10,000 people.
The Edge Lounge
It is a vibrant bar located at the heart of Nairobi, along Moi Avenue.
It offers a wide range of drinks which are pocket friendly and is usually full to the brim with revelers during weekends.
Casablanca
With its modern Moroccan design, this entertainment lounge has grown in leaps and bounds fast becoming a favorite spot among revelers.
It is particularly common with the expat community and is famed for its fantastic cocktails, wines and shisha.
If you want a place you can get down till morning then this is the place for you.
Zanze Bar
If you are a Lingala fanatic, then search no further, this is your perfect joint.
They also offer karaoke and pocket friendly liquor to their clientele.
It is located along Moi Avenue, Nairobi.