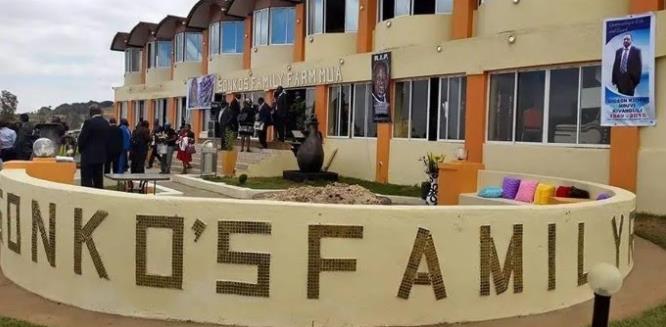 Property development is affected by the new wave, therefore, pushing prices of homes to new highs. Despite all this, wealthy Kenyans can afford to live in affluent neighbourhoods as they can buy houses worth millions. Below are mentions of rich homes in Kenya and their owners.
1. William Ruto's Mansion in Eldoret
The Kingsley Mansion is located 15Km East of Eldoret and sits on 20-acres of land. The deputy president acquired seven hundred acres in the Moiben constituency. It is yet to be completed and rumoured to be Ksh.1.2 billion.
The Deputy President prefers to mind his business and focus on his ongoing works. However, it's been noted that he always flies in and out of the compound despite keeping his matters private. A top choice Chinese Construction Company did the foundation for the main house, two swimming pools, a guest wing, a gym, library and other lavish facilities.
2. Mwai Kibaki
With a list of individuals with the most expensive homes in Kenya, the name of the former president Mwai Kibaki cannot miss out. Towards the end of his presidency, he was built a Ksh.400 million Mansion by the government. The house sits on 100 acres of land and boasts a Jacuzzi, helipad and a canteen for the employees.
They never settled in the house; only the Late First Lady Lucy Kibaki visited the place while still under construction.
3. Jimmy Wanjigi
The billionaire businessman lives a dream that many Kenyans can only imagine. The house is located in Muthaiga, and in 2017, it was a topic of discussion as it was designed by Perla Lichi and is estimated to cost Ksh.1 billion.
The MansionMansion has a Chinese pavilion and an outdoor Chinese teahouse where the billionaire hosts his associates. The dining room can accommodate 24 seats and a lounge for the VIPs. Other facilities from the imposing house include a basketball court, library and an indoor swimming pool.
4. Esther Akoth
The musician and self-proclaimed president of single mothers, Akothee is famous for her luxurious lifestyle. She owns a partial house in Rongo, Migori county. The home features an interior design with classy furniture and is lined with white white-painted walls. Each room is tastily designed with high ceilings, tiled floors and rich, warm colours with enough space to roam around. Moreover, don't forget the big Jacuzzi that adds to the top of luxury.
5. Raila Odinga
The former prime minister's private residence in Riat hills in Kisumu affords an aerial view of Kisumu city with the home overlooking Kisumu International Airport. The house apparently has 74 rooms, including ten bedrooms, offices, four expansive kitchens, two main conference rooms and two small conference rooms. In addition, the house is well built with a fabulous architectural design, has a humongous helipad and Jacuzzi.
6. Chris Kirubi
The late billionaire Chris Kirubi is an industrialist and real estate mogul owning various properties. His MansionMansion located in Bernhard estate, Nairobi seems to be the center of attraction due to the lots of money spent on it. The house is themed with light-brown and dark-brown colours and has a wonderful gazebo to entertain the guests. It also has a superb interior design aligned with great expensive furniture.
7. Simon Kabu
The Bonfire adventures CEO lives a lavish lifestyle, and it is not surprising his home is equally luxurious. Its interior is lined with sassy bright furniture, with the dining room having an excellent piece of art lined with a substantial well-arranged table to entertain the family and guests. Manicured lawns also surround it.
8. William Kabogo
The former Kiambu governor owns a multimillion house located right next to Winsor hotel. The place is very classy and can be confused for a luxurious hotel. Its interior is of another level; the handiwork of the professionals has the walls of the house lined with glass. A helipad, a Jacuzzi and a swimming pool are among the rest classy facilities. Overall, the stately home has a breathtaking design fit and scenery anyone can ask for.
9. Bishop Allan and Kathy Kiuna
They are the founders of the Jubilee Christian church and apart from that, living a sumptuous lifestyle is not a new thing to them. Their stately Mansion in Runda has beautiful gazebos and a compound lined with impressively manicured lawns. The compound also has a high field at the back that can host many people. We can forget about the beautiful swimming pool.
10. Ali Hassan Joho
The Mombasa governor is known to be discreet with his personal life, but some people will always be nosy. They noticed that he shared a beautiful photo of his Mansion in Nyali. His choice of shelter continues to prove that he is the epitome of luxury. The house is located next to the beach with well-manicured lawns and an extensive cabro-paved driveway.
11. Okoth Obado
The Migori governor is not a new face in the media; by the look of his MansionMansion, he lives large lokes someone who believes in you only live one. The house is estimated to cost around Ksh.200 million. His bed is known to have been coated for Ksh.2.2 million; it looks worthy of having a fancy sleep.
12. Francis Atwoli
His house is located in Kajiado county and is fittingly designed for the rich. The parking lot can accommodate up to 100 cars. The house also includes a restaurant that can host 300 guests at a go, a helipad and a swimming pool to cool off. He has the type of home that speaks grandeur and class.
13. The late Fidel Odinga
The late son of Raila Odinga's house also falls under the wealthiest homes in Kenya. The two places are estimated to be worth Ksh.70-75 million each and are located at Karen-Bel air. The house sits on a 0.5 acre garden with a majestic view of Ngong forest.
14. David Rudisha
The former champion built an impressive mansion in Eldoret. A huge compound surrounds the beautiful home with interestingly arranged flowers and green grass. The design of the house is simple but amazingly done. His taste is delightful.
Zana international Ksh.600 luxurious mansion
15. Zana international Ksh.600 luxurious mansion
The real estate agency built a multi-million magnificent house which is estimated to be worth Ksh. 600 million.
16. Mike Sonko
The former Nairobi governor belongs to the top-tier class of the rich, and he is well known for flaunting his wealth. His multi-million palace in Mua Hills, Machakos County, is the true definition of money, swag and elegance. This magnificent home features a gym, conference hall, and swimming pool, among many other features, gold-themed. Mike Sonko, who likes the fine things in life, owns many other houses in Mombasa and Runda.
17. Evans Kidero
Evans Kidero, the former governor of Nairobi, is one of the richest governors, and he prefers a quiet life. His beautiful mansion in Muthaiga is estimated at 320 million Kenyan Shillings. The house boasts a unique architectural design resembling the Romans blended with modernity. This fortress is situated in the posh suburbs of Muthaiga.
18. Raphael Tuju
Once a top politician, Raphael Tuju is currently the Secretary-General of the Jubilee Party, and he owns one of the most expensive homes in Kenya. His multi-million paradise is situated in the posh suburbs of Karen. This home features a double spiral staircase depicting style at its pinnacle. Other elegant features in this property are lush green vegetation, an indoor gym, a mock waterfall, and a few. Once in an interview, Raphael Tuju spilt the beans on his luxurious home, and he said that he didn't implore a contractor because he wanted to build himself a stylish home.
19. Ann Waiguru
Anne Waiguru is the governor of Kirinyaga County, a seat she clinched after resigning as a Cabinet secretary. Waiguru is no exception when it comes to being marred with corruption allegations, and she overcame numerous legal battles to retain her seat. The governor has an elegant house in Kitisuru, Kihingo Village Estate. The paradise-like home screams of style, lush and elegance. The home is fabulous, and its prime location makes it worth Ksh 150 million. The Kihingo development only allows matching regulated development, and the governor's house is a two-mansion storey building. It features white and brown colours, and it has a swimming pool, gazebos, water fountain and a lavish lawn.
20. Aden Duale
Aden Duale is an MP who has rubbed shoulders with top government officials and is very vocal about his political affiliation. He owns a Ksh 80 million house in Runda. This magnificent house boasts serenity and class differently with its uniquely done lawn and lush greens.
21. Vera Sidika
Vera Sidika is well known to the world for her six hundred-watt smiles, voluptuous body that gave her celebrity status. She is an entrepreneur in the Fashion & Beauty Industry, and she is the self-proclaimed boss lady. Vera owns a three-story elegant house in the Magnolia Hills estate in Kitisuru. The house is ideally located, offering breathtaking views, and its interior design is exquisite with art, chandeliers and luxurious seats.
22. Millicent Omanga
The nominated senator allowed Kenyans to glimpse her multi-million dollar house when Betty Kyallo interviewed her. Her home is a two-storey mansion with lush colours depicting richness. Her interior décor depicts leather whitish seats that match the house's theme. Being an interior designer has greatly helped Millicent Omanga to decorate her home.
23. Dj Mo and Size 8
This celebrity couple has been in the limelight after getting married, which they used to their advantage and garnered wealth. They are among the richest celebrity couples, and this is illustrated with their elegant home in Karen. Like other celebrities, they flaunt their lavish home in social media, which always leaves the fans with their jaws dropping. The couple opted for an expensive and tasteful house.
24. Oscar Sudi
This member of parliament rose from humble beginnings, including being a tout, owning numerous pool tables games in Eldoret, leasing land, farming to real estate. Oscar Sudi has done it all, and it has paid him off because he owns a palatial house. Being a close ally to William Ruto, the deputy president opened the vast home in 2016. The house is estimated to be worth Ksh 100 million, strategically placed on acres of land. The house boasts of world-class design with colors, roofing, and exquisite landscape.
25. Jaguar
Jaguar is an MP who was still rich even before joining politics. He owns fleets of cars and numerous properties stretched all over the country. His luxurious home is not only expensive, but it can house his guests as long as they want to reside there.
26. Jua Cali
Jua Cali is a seasoned musician who has graced the industry for years, and he continues to remain relevant while producing good music. He owns a four-bedroom mansion in Kahawa Sukari and is close to his long-time friend Clemmo. The house boasts a spacious living room, numerous parking lot and other world-class features. The house is built from local products, which he said in an interview.
27. Jalang'o
Jalang'o is a comedian, radio presenter and an aspiring member of parliament of Langata Constituency. His followers might agree that he has a fine taste for beautiful homes, including his house in Nairobi and the mansion in his village. The mansion is well done, has a large compound, garden, farm, and it overlooks the lake.
28. Julie Gichuru
The beautiful media personality continues to do best in hosting global leaders in her talk forum channel. Her house is magnificent and very palatial that you might confuse it for a hotel.
29. Ringtone
The controversial gospel artist owns a 10-bedroom house on half an acre in Karen. The interior décor is milk-white, a beautiful colour that enhances lighting and screams of wealth. This mansion is estimated to be Ksh 60 million.
30. Munene Nyang'a
Munene Nyang'a owns a Ksh 20 million house in Sabaki Estate. It is an eight-bedroom mansion sitting on a quarter-acre piece of land. He started small by building this mansion from his Ksh 3 million savings and later completed it after putting blood, sweat and energy into it. It features a glass observatory, six bathrooms, exquisite interior décor, a spacious living room and ample parking.