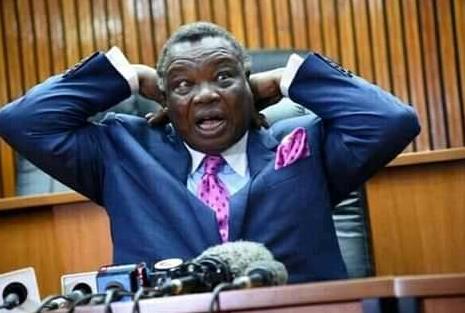 Just say COTU or msheeeeeenzi! And immediately most if not every Kenyan will have an inkling of who you are referring to.
At 73 years of age, the Central Organisation for Trade Unions (COTU) Kenya Secretary General, Francis Atwoli, is a paragon of sensation, charisma and ebullience which leave people he interacts with in awed admiration.
His abrasiveness has seen him attract praises and criticism in equal measure.
To those who are strangers, his nonchalant, daredevil attitude portrays him a know-it-all and impudent.
To those who benefit from his unwavering stance, especially civil servants who have spiritedly fought for their rights for decades, the trade unionist is seen as a hero, a beacon of hope even.
That said, Cotus's boss undoubtedly has a rare gift of making headlines locally and sometimes even internationally for all the good and bad reasons altogether.
Whether it is by design or involuntarily, he has a knack for effortlessly coining sensational phrases and exclamations which leave Kenyans charged up for days online.
In October 2021, Cotu boss during an interview with a local TV station had a burning question for the Mt Kenya region regarding their gamble between the Deputy President William Ruto and ODM leader Raila Odinga.
While urging the Central region to make their choice carefully between the two presidential aspirants ahead of August General Election.
"And you people in Central province you must ask yourself whose hands will you be safe," he emphasized.
As his norm, he ended up making an electrifying dramatization of the query "in whose hands will you be safe?".
It goes without saying that Kenyans had a field day on social media pages trolling him with hilarious memes and clips.
In another TV interview in the same station on February 24, 2021, Atwoli had been invited to give his opinion about the 2022 General Election and the Building Bridges Initiative.
Being not one to shy from speaking out his mind, as Atwoli as usual, was ready.
"I told you Jeff, I don't know who is going to be the President but I know who is not going to be the President, Alaa Alaa Alaa," he stated.
He emphasized the last bit much to the amusement of the host and Kenyans lighting up the online platforms.
The exclamation went viral and living up to his controversy dexterity, Atwoli moved to the Kenya Industrial Property Institute (KIPI) seeking to own exclusive rights for the viral meme Alaa, Alaaa and Alaaaa.
We can never forget the drama surrounding the controversial renaming of a road at Kileleshwa upmarket in honor of the Cotu boss.
It all started in May 27, 2021 when the County Government led by Governor Ann kananu unveiled the Francis Atwoli Road signage which was formerly named Dik Dik Road.
What followed were cases of vandalisation which saw the signage turned to ashes twice culminating into a court case.
Being not one to take anything lying down, Atwoli faced his nemesis reminding them that his many years of service had earned him the honor arguing that he even deserved a bigger road.
"Bringing down an honorary road sign under my name doesn't hurt me. On the flip side, it will haunt those who are behind it for life,"
He further installed CCTV cameras in the area to safeguard the signage which had been torched twice with a stern warning to his detractors.
"If you think you came from the moon go try to remove it again," he dared.
It suffices then to say with Cotu SG, you can expect no dull day in Kenya.
Atwoli's salary and wealth
Atwoli is one of the richest people in Kenya who can also be said to be bighearted and generous.
His is estimated to have a net worth of over Sh700 million.
The fact that he could advance a friendly Sh110 million loan to his ailing friend Cyrus Jirongo without even asking for any security is a proof enough.
It is not clear if the loan which was to be repaid within 50 days with a Sh10 million interest was ever repaid even after the issue went to court.
He is also among the highest paid individuals in Kenya with an approximate gross monthly salary of Sh15million while his net salary could be roughly over Sh5 million,
Apart from his powerful Cotu office, Atwoli also served in a number of capacities as follows:
· President of the Trade Union Federation of Eastern Africa
· President of the Organisation of African Trade Union Unity
· Vice President of the International Labor Conference
Vice President of The International Trade Union Confederation.
· Chairperson for the East African Trade Union Confederation
· Member at the International Labor Organization
· Secretary General of the Kenya Plantation & Agricultural Workers Union.
He is also a member of several boards meaning he gets allowances and compensations for board meetings attendance that adds greatly to his salary.
The trade unionist serves in various boards as follows:
· President – Trade Union Federation of Eastern Africa
President – Organisation of African Trade Union Unity
· Vice President – International Labor Conference
Vice President – International Trade Union Confederation
· Chairman – East African Trade Union Confederation
· Independent Non-Executive Director 2003 – National Bank of Kenya Ltd-(Banks)
· Governing Body – International Labour Organization Member
· Secretary General – Central Organization of Trade Unions
· Secretary General – Kenya Plantation & Agricultural Workers Union
· Member – National Social Security Fund (NSSF)
Properties owned by Atwoli
Houses
With his vast wealth and lucrative wealth it is needless to say that Cotu's SG owns a number of properties in Kenya.
His palatial multimillion house in Kajiado County
The luxurious mansion reportedly has a helipad as well as a parking lot which has capacity for up to 100 cars.
It also has a restaurant which has a number of guest rooms that can accommodate up to 300 visitors at a go.
He owns a multibillion residential house in Nairobi and another one Nakuru.
Cars
He is a proud owner of Mercedes Maybach 6 Cabriolet worth Sh60 million.
He also drives a Mercedes Benz S300 Model.
Allegedly, his latest car is able to change color depending on the prevailing weather conditions.
Expensive attire, jewelry
The flamboyant trade unionist is acclaimed for his exotic taste in expensive designer attires, jewelrly, and watches.
He dons signature labels with the cheapest watch in his wardrobe said to be Frank Muller that retails at Sh240,000.
In his defense, Atwoli argues that as a representative of the workers, it is only logical for him to dress well since he cannot meet influential leaders to negotiate employees' salary increments while clothed as a pauper.
Real Age and Wives
Born in Kakamega County in June 6, 1949, Francis Atwoli is 73 years old.
He is a polygamist by nature, a fact he has stated publicly and has never shied away from.
He is married to 36-year-old KTN TV presenter, Mary Kilobi.
According to the Cotu boss, he enjoys a cordial marriage relationship with his first wife.
The same however, cannot be said of his estranged second wife, Roselinda Atwoli who they parted in a rancorous manner which played out in the media.
The estranged couple's love turned sour relationship came into limelight recently when Roselinda who has since joined active politics announced her move to support Vice President William Ruto's United Democratic Alliance (UDA) party.
Education
Very little is known of Atwoli's formative education and it is an issue he avoids to talk about at all cost.
There are conflicting reports about his secondary education with some claiming he attended St Mary's High School in Nairobi while others say he studied at St Mary's High School in Machakos in 1963.
Between 1974 and 1992, he got a scholarship at the Cotu Institute of Education in Limuru and George Mini Labour Centre in Maryland, in the United States.
Although his early education is shrouded in mystery, that did not deter his meteoric rise from working as technician at the East African Post and Telecommunications to his current position as Cotu's Secretary General.
His journey as a trade unionist started when he unsuccessfully vied for the post at the Telecommunications industry.
Not one to give up without a fight, he gave it a go again in 1994 where he clinched the Secretary General post for the Kenya Agriculture and Plantation Workers Union.
This was his stepping stone as he later rose to Cotu boss position following the retirement of its former SG Joseph Mugalla.
Being the seasoned trade unionist that he is, Atwoli has managed to consolidate his office as Cotu's SG thanks to the vast experience he has garnered over the years.