Betty Kyallo is a Kenyan entrepreneur, influencer, reality television star and an awarding winning media personality in Kenya. She has worked with K24 AND KTN. Betty joined the Kenya television network as an intern and later was hired by the same network.
Betty Kyalo has been crowned as the TV/online influencer of the year in 2020 at the Inaugural African Digital Influence Awards [ADIA].She was also named among 100 most influential young Africans by Africa youth award in collaboration with Avance media.
Betty Kyalo was voted by the Kenyans on twitter [KOT] in 2018 as the journalist of the year and in 2017 SOMA named her as the media personality of the year.
EARLY LIFE
Betty Kyalo is a born 1989, 15th march. Birth place Kajiado County, Kenya in Ongata Rongai.
The parents are Julia Ngii and Wilfred Kyallo. She is a second born in the family of four. Her siblings are Gloria kyallo, Brian Kyallo and Mercy Kyallo. The parents separated when she was still young when they were still living in Nairobi, Ongata Rongai.
EDUCATION BACKGROUND
Betty Kyalo went to school in Olerai primary and later transferred to Uhuru Garden primary. After she was done with the primary education, she joined Kangundo Girls High school. She later enrolled at Daystar University where she pursued a degree in mass communication.
CAREER
She joined Kenya Television Network as an intern, and later on she was hired as a news anchor where she aired the 9 pm news on Fridays. She later joined K24 and aired the weekend 'up close with betty.' Betty Kyalo later quit her job at K24, she later resigned to pursue personal growth and to get more income-generating streams. Betty later on started her own YouTube channel, by the name Betty Kyallo lately, where she showcased her day to day life.
Betty Kyalo is an entrepreneur; she owns a salon and a spa business by the name Flair by Betty in kilimani She expanded, starting another business by the name Aftervshave by Flair barbershop and Bk closet.
On 17th, 2022 kyallo Kulture was introduced on showmax the Kenyan reality series about Betty Kyalo and her two sisters Mercy Kyalo and Gloria Kyalo. The show dives into the personal life of Betty Kyalo and her two sisters Gloria Kyalo and Mercy Kyalo.
PERSONAL LIFE
Betty Kyalo got married to NTV investigative news reporter, Dennis Okari. They together have a baby girl by the name Ivanna Okari. Betty and her husband Okari later separated after only six months of marriage. Betty Kyallo accused the husband Okari of infidelity and she moved out of her matrimonial home to an apartment.
Though she has kept her relationship life very private, she allegedly dated a very prominent politician and later on a lawyer.
AWARDS
Soma awarded Betty Kyallo as the media personality of Kenya in 2017.
She was also named the journalist of the year 2018 by Kenyans on twitter [KOT].
In 2019 Betty Kyallo was voted the most influential person in the media industry.
In 2020 she was voted as the TV/online influencer award, in the Africa Digital Influencer Awards [ADIA20] event.
NET WORTH
Apart from the reality show that generates her money, Betty Kyallo also runs a YouTube channel that generates her lot of money. She is also the founder and CEO of aftershave by flair barber shop and flair by Betty which won her an award at pwani fashion awards in 2018. She also owns a cloth line called Bk closet. Even though Betty has not disclosed her net worth I think we can all guess from her life style?
FAMILY
Betty Kyallo comes from a family of four. The parents are Julia Ngii and Wilfred Kyallo. The parents got separated when she was young, however, both parents were present in most of her early life. She has two sisters [Gloria Kyallo and Mercy kyallo] and one brother [brian kyallo].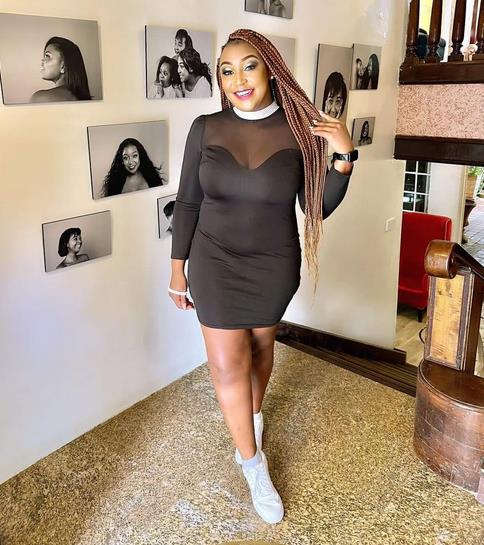 BETTY KYALLO INSPIRATION
She got inspired to media by the late Catherine kasavuli and wished to present news the way the late Catherine Kasavuli did. She is also passionate about cars. When Betty Kyallo was young her dream was to be a nun, she admired how angelic they looked.
BUSINESS AND VENTURES
Betty Kyallo is founder and CEO of flair by Betty and aftershave by flair barbershop. She also owns a clothline by the name BK closet.2018 Betty's flair by Betty won the best luxurious beuty parlor award, at pwani fashion week awards. She has a YouTube channel called Betty Kyallo lately and she is also in a reality series by the name Kyallo Kulture. She also owns several real estate properties.
BETTY'S PROFILE
Full name: Betty Mutei Kyallo
Parents: Wilfred Kyallo And Julia Ngii
Siblings: Mercy Kyallo,Gloria Kyallo And Brian Kyallo
Nationality: Kenyan
Occupation: Entrepreneur
Gender: Female
Religion: Christian
Instagram: Bettymuteikyallo
Twitter: @bettymkyallo
Facebook: Betty Kyallo
Youtube channel: Betty Kylao lately