It's not common in Zambia to see a man kneeling before his wife no matter the circumstance. We are not feminists, but we think some African Norms should be revised. This was a sign that he is truly and deeply sorry.
26 years ago, Mr Benson Mulenga of Mungwi District in Northern Province had abandoned his wife Agather Mutale together with their 8 children. After he became very rich, he divorced her saying she was of low class and an embarrassment to him. She went through unimaginable suffering raising 8 children single handedly without any support from her husband or his relatives. The man had become so rich and found other women in Kitwe that could fit into his class. In Kitwe he fathered 21 children with 6 women.
Fast forward, he lost all the wealth mysteriously and he contemplated suicide. He was later advised by one of his friends that all the rich men he saw in town had been able to maintain their wealth by keeping their first wives that they married for good.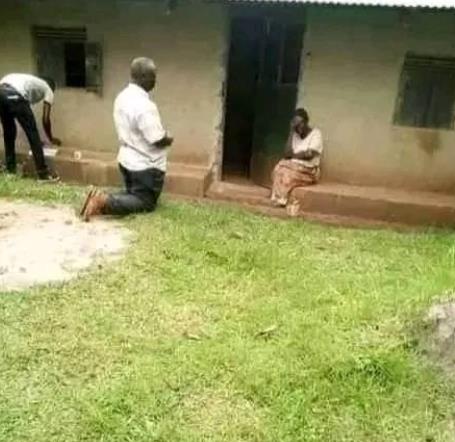 He gave him an example of all the former rich men that have fallen and had one thing in common, they had all abandoned the women with whom they had become rich. His friend advised him to first truly apologise and reunite with his first wife.
Last week, Mr Mulenga 76 who is now homeless went to apologise to his wife Agatha 72 who cried lamentably upon seeing him and hearing him apologising. One of her children died in 2006 due to lack of resources to take her to the hospital. Others stopped school due to lack of support. Through farming, she managed to build the house in the picture that her husband is now pleading to occupy with her as she is homeless. It was so touching seeing the poor woman crying. Despite her husband being HIV positive, she has accepted him back.
!! Women, God Bless You
. Men never leave or divorce your first wives whatever the circumstances.