In recent years, Kenya's betting landscape has witnessed a remarkable surge in popularity, with a burgeoning number of people embracing sports and gaming as an exhilarating form of entertainment. The East African nation has seen a rapid growth in the gambling industry, fueled by technological advancements, accessibility and a wide array of betting sites with bonus offers and promotions that captivate bettors and entice them to explore the world of gaming.
The rise of online betting platforms
One of the key drivers behind the growth of Kenya's betting scene is the proliferation of online platforms. With the widespread availability of internet connectivity and the ubiquity of smartphones, accessing betting websites and apps has become increasingly convenient for Kenyan punters.
Online betting platforms offer an extensive selection of sports events, casino games and virtual gaming options, catering to diverse interests and preferences. Bettors can place wagers on local and international sports events, ranging from football, athletics and rugby to basketball and cricket, among others.
Bonuses and promotions: A winning attraction
To stand out in a competitive market, betting companies in Kenya offer a range of enticing bonuses and promotions to attract new customers and retain existing ones. These bonuses come in various forms, such as free bets, deposit bonuses, cashback offers and enhanced odds.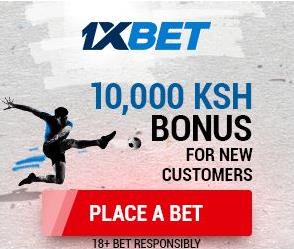 New customers are often welcomed with generous sign-up bonuses, which provide them with free bets or bonus funds to kickstart their journey. Deposit bonuses, where a betting company matches a portion of a customer's initial deposit, add extra value to a player's bankroll. Promotions, such as money-back guarantees or enhanced odds on specific events, enhance the experience and increase the winning potential for bettors.
Responsible betting and regulations
As Kenya's betting landscape continues to evolve, there is an increased focus on responsible betting practices and player protection. The Betting Control and Licensing Board (BCLB) is implementing measures to ensure that operators adhere to responsible gambling guidelines, safeguarding the interests of players and preventing problem gambling.
Prominent betting companies actively promote responsible betting through awareness campaigns, self-exclusion options and tools that allow customers to set limits on their accounts.
Opportunities for winning: The thrill of betting
For many Kenyan bettors, the thrill of betting lies in the anticipation of a winning outcome. The allure of turning sports knowledge and intuition into potential profits adds excitement and engagement to the experience.
In addition to sports betting, the growing popularity of online casinos and virtual gaming has opened up new winning opportunities for players. Virtual gaming options, such as virtual football and virtual racing, offer instant results and quick gratification, making them increasingly popular among Kenyan gamers.
Concluding remarks
Wrapping it up, Kenya's betting landscape has undergone a dramatic transformation, fueled by the rise of online platforms, enticing bonuses, and a focus on responsible gambling. The proliferation of internet connectivity and smartphones has made betting easily accessible to a growing number of Kenyan punters, providing them with a diverse array of sports events and casino games to wager on.
The attraction of generous bonuses and promotions has been a winning strategy for betting companies, drawing in new customers and keeping existing ones engaged. The industry's commitment to responsible betting practices, overseen by the Betting Control and Licensing Board, ensures player protection and prevents problem gambling.
For many Kenyan bettors, the excitement and thrill of betting lie in the anticipation of a winning outcome, especially as online casinos and virtual gaming offer additional avenues for potential profits. As the betting scene continues to evolve, Kenya remains a vibrant and dynamic hub for sports and gaming enthusiasts alike.