Free Betting Tips 10/21/2017
If you are planning to bet today, here are our free betting tips for English Premier League
A total of seven English Premier League games will be played today and the matches are very predictable.Manchester United are playing Huddersfield.The game will be one sided, where United will walk home with a win.If you place a bet of Ksh 500 at Betway,you will walk home with over Ksh750.The earlier you bet the better.You can register at Betway through this link and start playing(Betway link)
There is also an interesting match between Chelsea and Watford. Chelsea have been given an odd of 1.37.Again,if you place a bet of Ksh 1,000 on this match and predict a Chelsea win, you will walk home with Ksh 1,370….this is free money.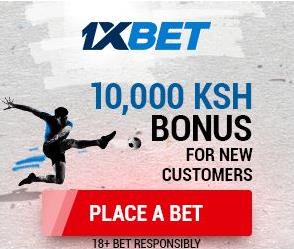 Another mouthwatering match is between Manchester City and Burnley.This is a mast win for Manchester City. For those who want free money, place a bet predicting Manchester City win, but the bet has an odd of 1.10, implying that chances of Manchester City winning are 90%.If you have Ksh10,000 idling in your house, place a bet and win Ksh 1,000 more in this game.
We also have a highly unpredictable match between Stoke City and Bournemouth. Stock City have an odd of 2.12 while Bournemouth have an odd of 3.47.But as always, a game like this is tricky. If I were you, I couldn't place a bet indicating a draw, win or loss, instead I will go for goal goal. I see several goals in this game and I will place a bet indicating the teams will score each other.Alternatively,I will place a win for Stock City since it's playing at home-but this pick is tricky.
Another game in the list is between Swansea and Leicester City.The odd for Swansea is 2.75 while Leicester City have 2.65.If I was to bet in this game, I would pick a win for Leicester City even though they are playing away game. I also believe the game will end at 2-1 in favour of Leicester City.
The game that might surprise many is that between Newcastle and Crystal Palace.we understand that Newcastle's recent record is impressive but Crystal Palace is not a team to underestimate. I see a surprise in this game.If you take your Ksh200 and place it on Crystal Palace,you will walk home with Ksh822.
Beetway has the most impressive odds. Join today and get free bets. To join,click here