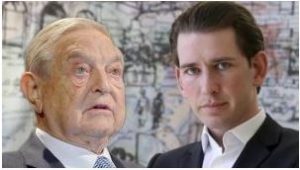 The world's youngest chief, newly-elected Sebastian Kurz, has knowledgeable George Soros that his Open Society Basis has 28 days to stop and desist operations in Austria or face authorized motion for "trying to undermine the democracy of the nation."
31-year-old Sebastian Kurz, Austria's youngest ever chief, has informed colleagues that motion should be taken instantly, after information broke that George Soros has donated $18 billion of his $24 billion greenback fortune to his Open Society Basis.
"The scenario has grow to be vital," Kurz mentioned. "Soros is throwing the whole lot he has behind his push for international management. Misinformation and media manipulation has already elevated exponentially in a single day. Now we have no room for complacency."
Kurz, a self-described truther who says he was "purple pilled" by the 9/11 movie Free Change, claims that he understands the Soros agenda, and "there isn't a method in hell this nation can be his fifth sufferer."
It's understood the Austrian chancellor is referring to the variety of nationwide economies Soros has crashed with the intention to acquire monumental private revenue and political affect.
Requested why he was banning George Soros's Open Society Foundations, Kurz mentioned, "As a result of it's 2017."
The information that Soros has launched 75% of his huge fortune to push his political and social agenda has brought about shockwaves all over the world, with many democratically elected leaders expressing worry that the sheer weight of his billions, used to purchase politicians and journalists, can be tough to battle in opposition to.
Kurz agrees. This is the reason he has taken quick motion.
"The specter of Soros is the best problem humanity is going through on the planet in 2017. He is a good vampire squid wrapped across the face of humanity, relentlessly jamming his blood funnel into something that smells like cash, utilizing this cash to deprave politicians, journalists and the general public sector, and trying to create the world in his picture.
"The folks of Austria have rejected the New World Order, and it's my obligation and my privilege to uphold their will."