It's exactly three years since I first heard about AIMs global, one of the most suspicious companies in Kenya. All along I have been keenly following the activities of members of this organization in Kenya and I have come up with genuine reviews and testimonies from members.
AIMs Global was incorporate in 2006 by Dr. Ed Cabantog and has since grown to become one of the fastest growing pyramid schemes in the world. The company opened its offices in Kenya 3 years ago and it's currently headquartered at 680 Hotel.
In 2017 one of my Facebook friend, who dresses to kill, introduced me to the company. He came with a sweet story that he makes Ksh15,000 per day.Of course when I went through his Facebook photos I noticed he had travelled far and wide,he had taken photos in almost every airport in the world and drives a Range Rover. I thought he had made it in life.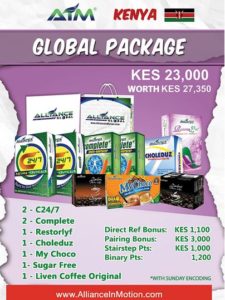 "You see, I also want your life to be better, drive a nice car and build yourself your dream home. I don't want to eat alone.I have been here for only one year and you can see how life is good", he convinced me.
We agreed to meet at Kencom the following week. As agreed, I met him and we went straight to Stanbic Bank building which is located next to the National Archives. That's where I also met several other Kenyans waiting to be addressed by successful AIMs Global members.
The first thing that struck my sight was the way 'those who have made it in life' wore expensive suits and dresses, they spoke nice English and always spoke with authority.
"Welcome all, please have a seat and feel welcome", one of the many nicely dressed ladies told us calmily.The room was quiet, everyone went silent and curious to know how to make a million in a single day. She went on, "as you can see, we are a family. Here at AIMs Global, we help individuals create wealth. It's the only company which can empower you to earn millions in a single day-your efforts your wealth. But before we continue, I would like to state that AIMS Global is a legit company, it's not a pyramid scheme".
The session continued with each speaker promising heaven. After the last speaker concluded his speech, we were taken through registration process where each new member in the room was told to pay Ksh23,000 and be given a package. But we were asked to indicate those who referred us to the company.
I had been at GNLD before and the registration procedure was almost similar to the AIMs Global one. Since I didn't want to repeat the same mistake, I told the organizers in that room that I will pay the money the following week. Few minutes later, I was out.
It's after few weeks that I heard from another friend that he had paid Ksh23,000 and was not able to sell the company's products. What he was simply doing was to recruit members and recover money through referral commissions. He looked disturbed but on Facebook, his life was heaven.
Now, from what I have gathered from family members and friends who have been members of AIMs global. I also witnessed when I attended the one day talk, is that each member is told to look flashy and expensive so that it can portray a great image of the company. They are also told that social media is everything and the image they portray plays a fundamental role in regards to sales. I have 4 friend ( I won't name them) who have been working for AIMs global. They have always intimated that they are extremely disturbed but they won't reveal to the public for fear of ridicule. Some paid Ksh 63,000 life membership fee but have never recovered the money.
On Facebook, you will see some of them wearing designer suits, posing next to posh cars and taking photos next to planes. These guys are on a mission, and the mission is to lure you into their network. One of them lives in a single room in Pipeline where he struggles to pay a rent of Ksh 4,000.He told me not to expose him when I commented on his Facebook page. The boy has lured some of his family members into the company and as of today, they are not in good terms.
What AIMs Global is doing is to sell products to its members in a forceful way. The Ksh23,000 each member pays is equivalent to the product they are given to sell.Now,is there any difference between selling AIMs global products and opening a shop in your village? Of course the difference is huge. The products sold by AIMs Global have zero market share in the country and have never been approved by KeBS.No Kenya has embraced them except family members of AIMs Global members.
When you join the company, the only benefit you get is when you refer another member, which is why the members desperately market the company to the world. Nature dictates that a good thing sells itself and a bad one is forced down the throats of people.People who make millions per day never reveal to the public because of security reasons.Now tell me,how can someone living in a Ksh4,000 house claim to be a millionaire?!!!