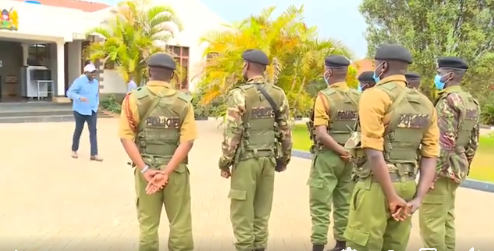 Interior Security CS Fred Matiangi has revealed that a total of 257 police officers are assigned to DP William Ruto.Intitially, majority of the officers were from GSC but were withdrawn for AP officers.
Speaking to Parliament Security Committee, Matiangi revealed that there are 4000 officers assigned to VIPs and VVIPs. Layer one of DP Ruto security comprises of President Escort Unit which has 74 officers protecting him personally, plus 5 GSU officers who even drive him and 6 DCI officers. The second layer has 121 officers dedicated to the DP 24/7.Third layer of security officers deployed to his properties countrywide such as
1. Kitengela Gas – 6 officers
2. Weston Hotel – 6 officers
3. Mulumbi farm (6000 acres) – 6 officers
4. ADC Laikipia – 15k acres – 6 officers
5. Dolphin Hotel Mbs – 6 officers
6. Wait a Farm – 6 officers
7. Elton View home – 4 officers
8. Poultry frm in Eldoret – 4 officers
The President is the most guarded Kenyan with over 300 police officers mostly from the Recce Squad.