Machakos Governor Alfred Mutua has built a modern tree bedroom house for Ksh800,000.The construction of the house took less than 10 days and consumed less than Ksh1 million.
While unveiling the new house for one of his subjects,Mutua noted: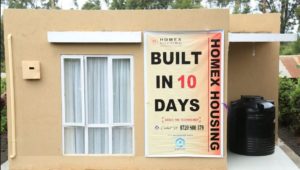 About a month ago, on April 7th, 2018, I was touched by the plight of Mzee Christopher Muchoki and his wife Ann.
I was on my way back home after a successful benchmarking tour in Nyeri County when I was informed of a Mzee who knows me very well from news media reports but whose life is miserable due to abject poverty.
I visited Mzee Muchoki and found out he had gone blind and was living in a shack. I remembered my days growing up in a mud house in Kibera and later in a wooden structure with a mud floor up to my 20s and felt compelled to change this family's life. I know how it is and how it feels to be very poor.
I spoke with Lillian and we agreed to build a new home for him so that he can have a decent shelter for the remaining days of his life.
We have kept our promise.
Today, we have handed the keys to Mzee Muchoki's family of a fully furnished, new, modern house that has a seating area, two bedrooms, toilet/bathroom and kitchen. We have also installed a water tank and connected the house to electricity. The house is perfect for him and his wife and I hope it will provide them with daily comforts.
God desires for us to have a good life here on earth. I thank him for enabling us to do his work. Life is about living every day comfortably with basic needs taken care of and it is a blessing to make the life of others better.
I wish to thank Lillian for embracing this work. I thank the contractor Sam Njoroge of HOMEX for constructing a beautiful house in a Chap Chap manner, using new technology.
When I requested others who felt touched to help furnish the house, I received positive replies. Thank you to the following who supported this work"
The normal cost of a three bedroom house in Kenya is Ksh2 million.Mutua's house is three times cheaper, thanks to the technology used in the construction of the house.